It's been summer for a few days now and summer says barbecue ! The barbecue is the typical meal of summer evenings or Sundays with the family. It's a super friendly event , mega gourmet and quite simple to organize when you have everything you need. Because yes! A successful barbecue party needs to be prepared in advance ! A good barbecue party is played with the barbecue itself but also with the atmosphere of the moment, the equipment and of course the food. Today, we will give you all the tips to prepare a crazy barbecue !
Step 1: The choice of barbecue
Let's start with the beginning ! Obviously, we don't teach you that, the most important thing when organizing a barbecue party is to have a barbecue. Duh. Charcoal barbecue, gas barbecue, electric barbecue, fixed barbecue, nomad barbecue, improvised barbecue with a simple grill and a campfire, from the basic barbecue to the super sophisticated barbecue. There is an impressive variety of barbecues . To make your choice, you will have to take into account your needs , your tastes and of course, your budget . First, you have to choose the desired energy source for your barbecue.
Charcoal barbecue
The charcoal grills are more suited to occasional use and not daily. Perfect, therefore, if you do not plan to use it every day but only at family or friends gatherings. The main advantages of this type of barbecue: it gives your food a typical grilled and smoky taste and is often inexpensive ! However, it is more risky (risk of burns, backfire), more difficult to use (you have to manage the embers, difficult lighting) and more difficult to maintain (very messy). For an entry level we recommend this barbecue : very affordable price, not bulky, simple design and it does the job very well!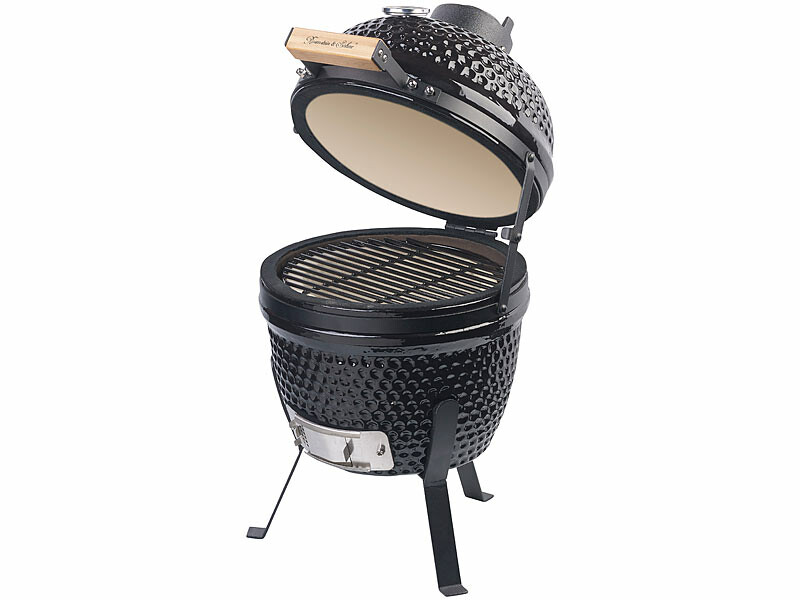 If you are ready to put a little more on the budget , the kamado ceramic barbecue is an option. It is super aesthetic, super practical and super stylish ! Equipped with a thermometer, your meats will come out excellent! 
Gas barbecue
Conversely, the gas barbecue is much less messy and easier to handle ! For example, with this type of equipment, there is no need to worry about ignition as on carbon models. The ignition is simple and completely instantaneous, like on a gas stove and it rises very quickly in temperature! The prices are, on the other hand, a little higher than for a charcoal barbecue. Care must be taken with the gas cylinder which, although practical as it is sufficient for several uses, must be systematically closed after cooking. Leaks should also be monitored. In addition, the downside of this device is that it is rather bulky.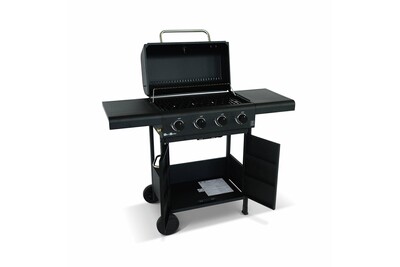 The electric model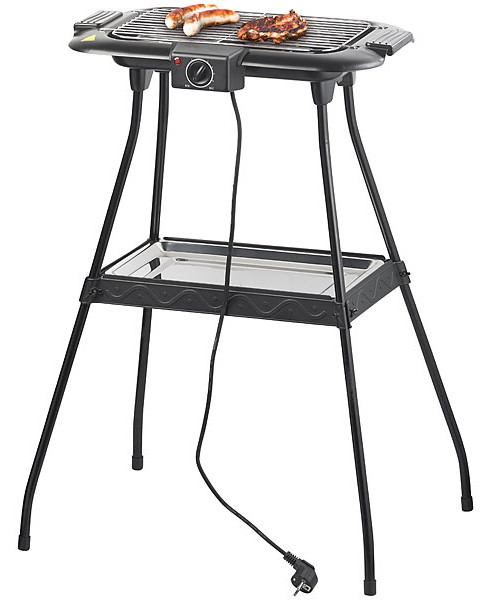 The electric barbecue is a bit of the least candy-breaker model! To turn it on, just plug it in . It means no fuel to manage and that's no small feat. Unlike the gas model, this one goes everywhere: it will not take up too much space in your garden. For the price, it will depend on the model chosen, the range. For a super affordable price and a super quality product, we offer you this electric model with removable tray ! This can be used in your garden or on the balcony of your apartment thanks to its table grill mode super clever! No need to watch the fire or handle charcoal, just plug in your device and the party can begin. The temperature can be adjusted using an adjustment wheel.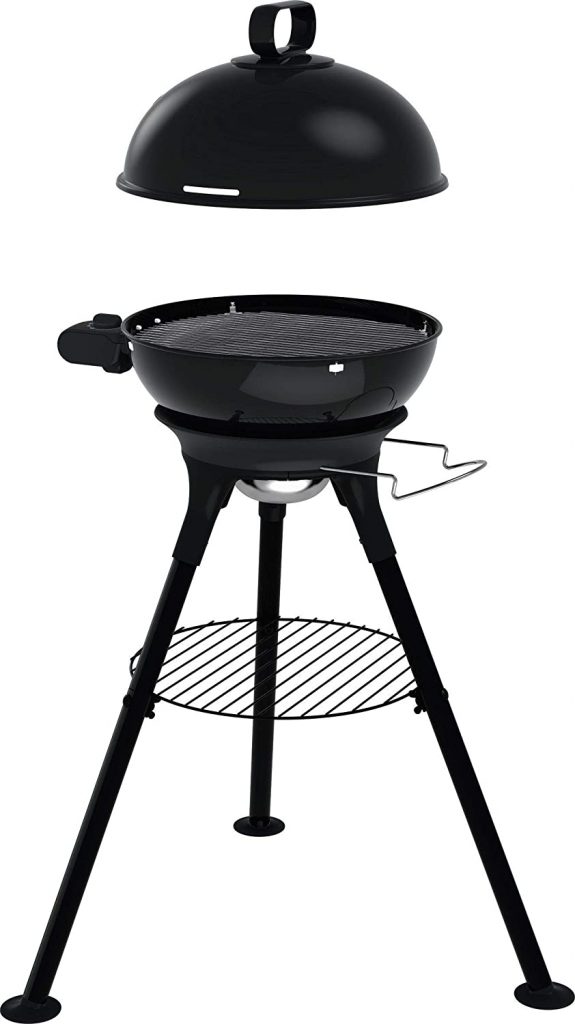 If you want to opt for a model from the range just above, we recommend, for example, the Aromati-Q barbecue from Tefal . His particuliarity ? It has a flavoring tray filled with wood chips to flavor foods with a smoky and grilled taste . The typical taste of charcoal grills combined with the ease of use of electric grills. 
Our little tips:
Do not place the barbecue too close to the table to prevent your guests from being suffocated by the smoke (or the odors), it's still better!
Turn on the heat at least 50 minutes before you start cooking, in the case of charcoal or gas barbecues.
Think about safety! Always ! Plan to put out something to extinguish the fire in the event of a fire, do not let children go near the barbecue,… In short, be vigilant!
Step 2: the equipment for a perfect barbecue
Utensils
The utensils are essential to achieving a good barbecue. Pliers, fork, knives of all sizes including gloves and fire-lighter, you need to prepare all the accessories that may be useful to you on D-Day! It is important to determine which ones you will need and to choose them well so as not to have unpleasant surprises . We specify it in case but, for example, it is, of course, not recommended to use plastic utensils! It is well known that this material is not really made to withstand the immense heat of a barbecue ...
For a successful barbecue, you will need:
A clamp . This will be essential for you to turn your meat easily and without the risk of burning yourself. Depending on your type of barbecue, you may also need tongs to stir the embers.
A fork . Very practical for cooking your meats, you can turn them and move them as you wish!
A spatula . To be able to easily handle large enough pieces of meat
The pikes BBQ ! These will allow you to make delicious meat or vegetable skewers that will delight your guests! Opt instead for metal sticks rather than wood: they are a little more expensive, but reusable at will! And therefore better for the environment!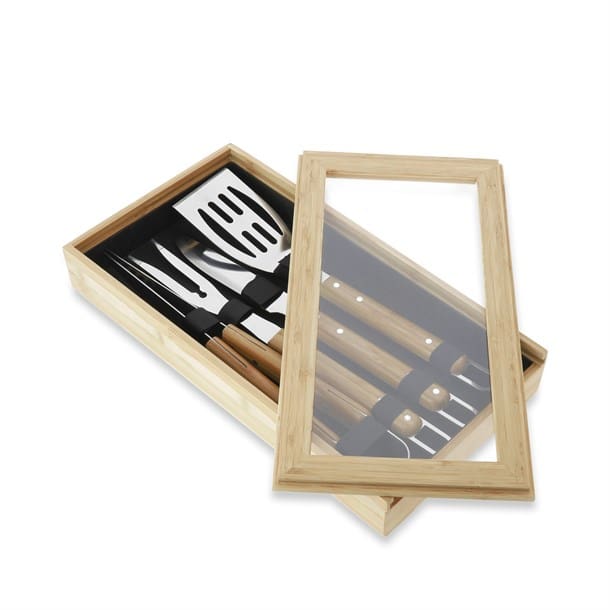 All of these utensils are available for purchase individually but you can also find some really nice sets and kits to buy everything at once!
For the more technical side of the barbecue : consider bringing back mobile grills in addition! These will always be useful for more grilling and some grids, such as double grids, may allow you to cook fish very easily. Do not forget to bring back gloves to handle grills and other utensils with more comfort: the barbecue remains a rather dangerous appliance to be used with great caution!
The meat thermometer
The meat thermometer is a super important gadget for cooking your meats! This will allow you to successfully cook your meat every time (whether during your barbecues or during standard cooking, of course). Your barbecue may have a built-in thermometer, or you may be a pro at barbecuing meat, but this tool gives you reliable and much more accurate measurement .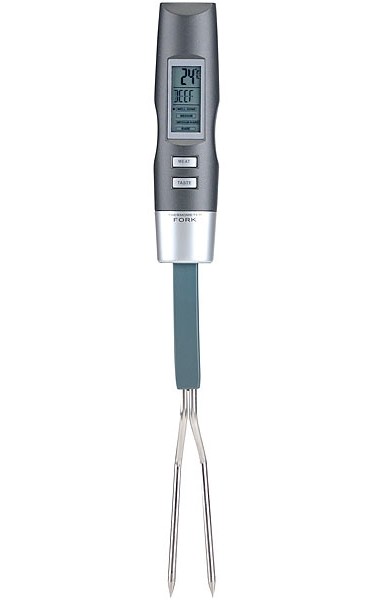 Some thermometers, like this one for example , allow you to select the type of meat and the desired doneness . Thus, it will offer you personalized cooking of your meat. If the two sensors in the spits get the desired reading, a sound will be emitted to alert you that your meat is ready to be served. Super practical this smart fork! In addition to making your job easier, the meat thermometer is also a way to avoid food poisoning . With it, you can check if your meat is cooked enough to be served and eat in safety and serenity . 
The pizza oven
No, you don't have to be left out of the barbecue just because you have a terrible craving for pizza . Who says you can't cook pizza on the barbecue? This is totally wrong and to do so, all you need is a pizza oven . What is that ? It is a kind of stainless steel box that you can place on your grill. This oven allows a homogeneous distribution of heat to ensure the best cooking of your pizzas (or pies, for example). The model we offer is equipped with a thermometer and a baking stone to obtain a very crispy dough., as we like them! This oven is compatible with gas or charcoal barbecues. So what do you choose tonight? Grill or Pizza?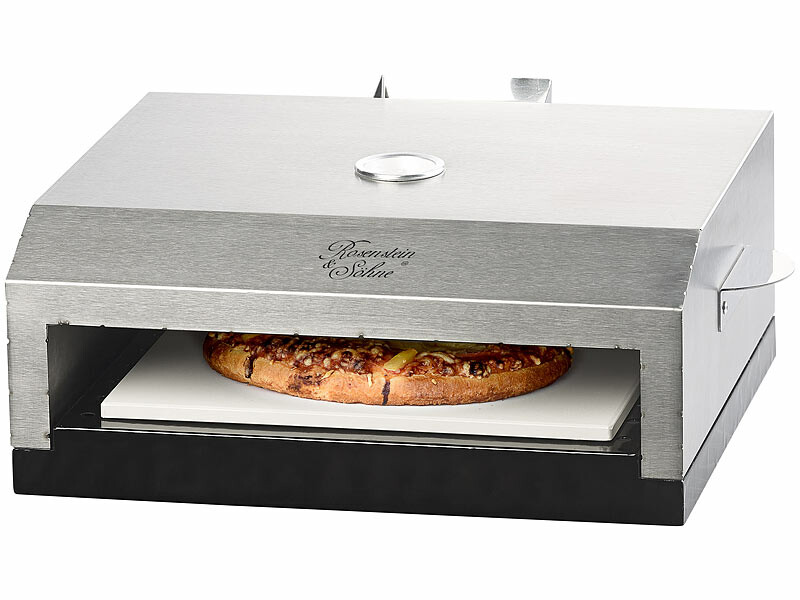 The vegetable basket
A very nice and practical little object that will allow you to grill your vegetables (or fruit, as you wish) on your barbecue with ease. This vegetable basket has many small holes to ensure optimal cooking of your food . Being made of stainless steel, you can put it in the dishwasher or clean it by hand super easily.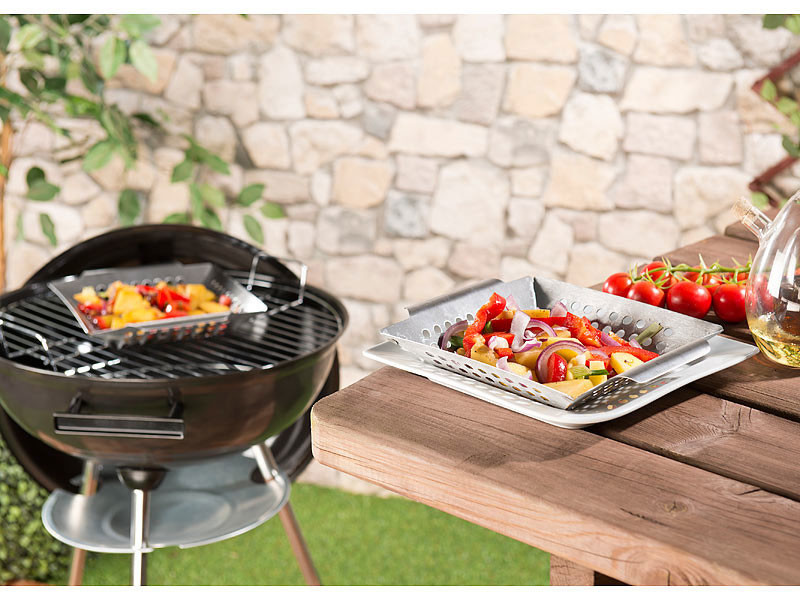 Step 3: Preparing the food
You will understand, but the main idea when planning a barbecue is the following: you have to plan ! It is exactly the same with food. You need enough food for everyone, but not too many tons to avoid waste galore . To avoid overabundance, try to calculate in advance what you will need. Typically, you will need 250g to 300g of meat per person. It obviously depends on individual tastes, appetites and habits, but it can still give you some idea .
In addition to meat, plan salads of all kinds , bread, sauces to accompany meats. Basically, depending on your equipment, you can cook a whole range of different foods: pizza, whole grilled chicken, vegetables,… Nothing can stop you! So let your stomach do the talking and choose what you like and what your guests would like! The main thing is to enjoy yourself while of course avoiding the mess . Remember to bring reusable food storage boxes and dishes to store food and bring it home when possible!
Step 4: A festive atmosphere for a successful meal!
Once the place is chosen, you have to think about the setting, the atmosphere of the place. It is secondary but still not negligible. Arrange the space to give it a little festive air . Install your garden furniture or your pretty little blanket on the ground. If you do this in the evening , do not hesitate to first add lights to illuminate you but also garlands for a super warm atmosphere . Also consider lemongrass candles to ward off any mosquitoes!
If you do this during the day , don't forget the parasol and something to protect you from the sun! This is essential ! Create a super friendly atmosphere with decoration on your tables and a little background music to get into the festive spirit! It seems logical but we specify it in case it goes over the head: check the weather forecast . Before planning anything, check that the weather is suitable for your Barbecue Party. A barbecue in the rain isn't very fun, is it?
This article on barbecue essentials is now complete! We hope you enjoyed it and that it helps you organize the best barbecue parties of your life ! Do you want to do an activity with friends / family after your barbecue but you don't have any ideas? We have the solution for you in this article: 5 things to do with your family during summer nights .
If you want more advice, take a look at the other articles on our blog. You will inevitably find your happiness there!